5 Best WordPress Project Management Plugins
If you manage a WordPress website, you're probably familiar with plugins. With thousands of plugins available, admins often use WordPress project management plugins to help keep track of various published campaigns on their site.  This allows content teams to get their work done before deadlines and helps marketing teams take advantage of timely opportunities to engage their audience.
If you are looking for the best project management plugins for WordPress, you've come to the right place. With so many options to choose from, it can be tough to know which plugin is right for you. But don't worry, we've got you covered.
In this post, we'll introduce you to some of the best project management plugins for WordPress and help you choose the right one for your needs.
We love WP Project Manager because it's one of the best and most popular freemium project management plugins available. It offers robust features for both free users and paid subscribers, making it a great choice for managing projects of all sizes.
Pricing: Free; Paid plans are available for $79/year, $149/year, and $249/year
WP Project Manager is a popular, open-source project management plugin for WordPress that offers enough potential to compete with full-fledged project management systems. Basic features include project creation, user assignment, messaging, file attachments, and the ability to leave comments on tasks or projects.
The premium version adds a calendar with drag-and-drop functionalities, expanded privacy settings, milestone tracking, deadline management, and subtasks.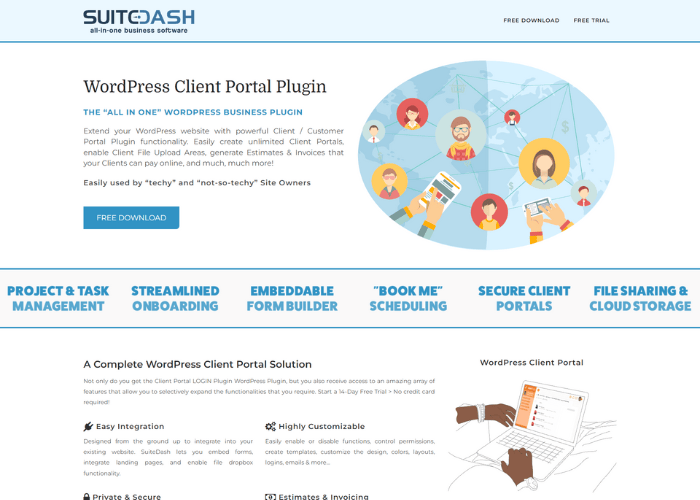 We really like WP Client Portal for its vast array of features and functionality, all available for free. This makes it an ideal tool for managing projects and clients simultaneously.
Pricing: Free
WP Client Portal combines a CRM plugin with a project management system to create an "all-in-one" business solution. The free product is incredibly capable and worth checking out.
One example of its capabilities is the "Private Messaging" feature, which allows you to send emails to a client that are recorded on their internal profile page. This is similar to the messaging feature on a CRM contact record.
Another than that, the "Client Manager" is a great feature that lets you assign clients to someone at your company, who is then responsible for sending them information and promotions. This is similar to a "teams" or "contact owner" feature offered by most CRMs. It funnels information into one pipeline that can be referenced as needed.
Another great feature is the "Estimates & Invoicing" tool which lets you create customized and branded estimates and invoices for clients before and after they make a purchase. Clients can then view these documents as PDFs and even pay an invoice online instead of over the phone or in person.
Panorama's project management features are top-notch, and the company is doubling down on them to create an even more focused product. We love that!
Pricing: Plans are available for $69/year, $99/year, and $129/year. There's also a lifetime purchase for $299.
Panorama is the perfect project management tool for users and stakeholders who need to understand what a project's timeline looks like and when it will be completed.While other options on this list might offer additional features and tools, Panorama's focus on project management and sharing information between internal and external stakeholders makes it the ideal choice for anyone looking for a true project management solution.
While you may think that having each user have their own custom dashboard in Panorama would limit the plugin's power, it actually makes it more powerful. With this feature, each user has a summary of what projects they're currently working on and how far those projects are from completion. This lets everyone know what they need to do to complete a project, making the goal feel much more attainable.
Another unique feature is the task completion system. This measures the time elapsed between each completed task. With this, you can see which teams are keeping pace with the project's timeline. And, you can see which tasks still need to be finished before the project is complete.
We love Business Manager for its time management capabilities! You can try it out for free, and if you like it, you can buy the paid extensions.
Pricing: Free; paid extensions also available
The Business Manager plugin is the all-in-one project management, document management, and human resources management tool you've been looking for. With this powerful plugin, you can:
Track when a project starts and when it's completed
Categorize projects by different types and statuses
Write detailed notes so you know exactly what's going on with each project
Use Kanban Boards to outline projects in a calendar format
Monitor company-wide holidays and keep track of when employees are taking vacations
Create performance reviews that measure how well an employee is doing
Get the Business Manager plugin today and streamline the way you manage your business!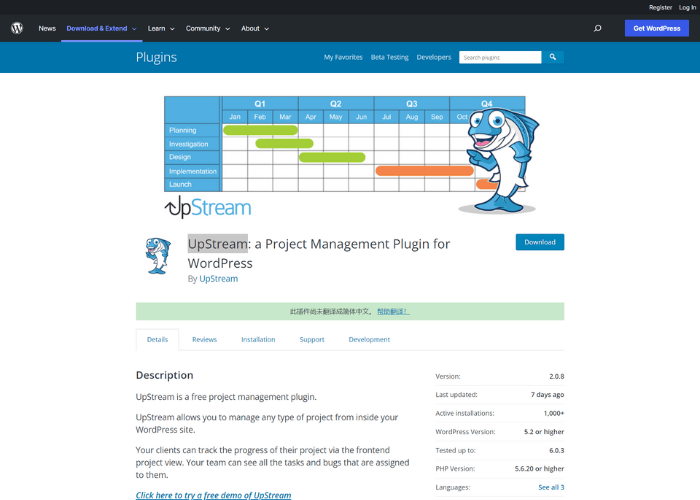 UpStream is a great project management plugin with a healthy number of features available for free. We love that it includes issues and bug tracking – this is a great way to keep your projects on track!
Pricing: Free; premium extensions also available
Upstream offers many of the features you'd expect from a project management plugin: file and document uploads, task assignment, discussion threads, and more. But it also offers something unique: an issue/bug tracking tool. This tool reports glitches and roadblocks as they arise, and just like delegating a project task, these issues can be assigned to team members who are responsible for fixing them.
It also has a feature that lets people view data without granting them access to your WordPress admin panel. That way, you can keep relevant stakeholders updated without having to add them as users in your WordPress account.
Managing Your Projects In WordPress
Project management tools help you complete projects on time by removing roadblocks that negatively impact productivity and efficiency. They also make it easy for stakeholders to understand what work has been done, and what work needs to be done to complete a project or task.
By using one of these WordPress plugins to outline this information, team members have a clear understanding of what their responsibilities are and how their work contributes to the project's success.
If you need any assistance in developing your company's website, you are welcome to contact us – Web Design Malaysia!