5 Best & Popular Free Image Optimizer Plugins For WordPress
Do you need to find the top free image optimizer plugin for WordPress? We have compiled a great list of the best free and paid plugins to reduce the size of your images and optimize your website. Using these large-image tools can help deliver a better user experience and faster loading speed for your website.
What You Can Expect For A Free Image Optimization Plugin?
While searching for a free image optimizer plugin, you can expect one that offers:
Automated optimization
A lazy loader
Has the ability to compress numerous images with the free version,
Bulk optimization
High-quality compression
Other than that, you may need to ensure that the plugin you select is affordable and comes with good customer service, minimum downtime, and a guarantee of a money-back period.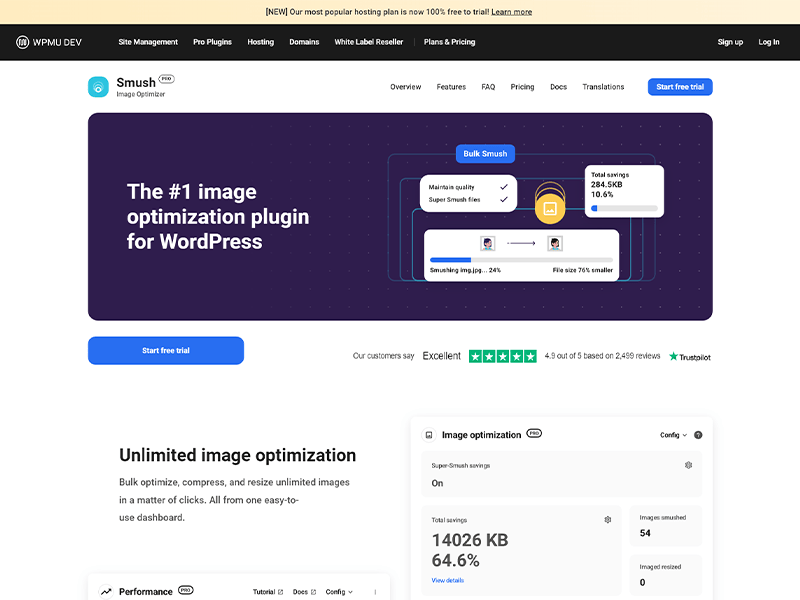 The Interface
Smush's attractive interface provides users with proactive options that inquire if you'd like to optimize existing and new images. Additionally, a quick setup wizard is available to configure all the necessary settings from the beginning.
One of the main benefits of Smush is the detailed data about images and space savings accessible to users.
The Features
Resizing and optimization are both options with both new and existing pictures. The bulk optimization tool is great for when you have multiple images. In the free version, you can only optimize up to 50 existing images at once, so you may need to click the button multiple times if you have many images. It's recommended to monitor the sizes of the optimized images; Smush compresses all uploaded image sizes, but the free version does not include the Full-Size image.
Smush also provides additional functionalities such as metadata removal, automated picture resizing, and a backup option when uploading images.
The Pricing
Smush provides free optimization of unlimited images, however, the individual image size cannot exceed 5MB. To bypass this limitation, you can use WP Smush Pro.
The basic package starts at $7.50 per month and is suitable for one website. For more website support and Wpmudev developer plugins, you can upgrade to a higher package.
The Interface
ShortPixel's dashboard provides an easy-to-use interface with quick buttons for selecting your desired image compression, backing up photos, and resizing large images.
Advanced options are available under extra tabs, but the majority of users can stay on the main page and still benefit from the default settings. A unique API key is needed, which can be requested within seconds directly from the dashboard.
The Features
ShortPixel offers three compression modes:
Lossy
Glossy, and
Lossless.
They also provide a testing link to help you make an informed decision. Resize large images during upload and check the space saved.
For advanced users, ShortPixel also has:
PDF optimization
WebP support
Cloudflare integration
Additional media folders
PNG to JPEG conversion
Retina image optimization, and
Thumbnail optimization or exclusion
The Pricing
Every month, ShortPixel offers 100 free image credits. If more is needed, plans start from $3.99 for 7,000 credits, with a file size limit of 100MB for all plans. Additionally, an upgrade option is available to further optimize images.
The Interface
Imagify is an image compression plugin for WordPress, offering the most visually attractive settings module of all. The General Settings, Optimization and Display Options are all on one page, making it a breeze to manage settings.
The buttons for optimization choices are particularly big and clear, and the Visual Comparison between modes allows an easy understanding of which to use. To take advantage of Imagify's features, a free account and an API key are required.
The Features
Imagify's testing showed good results when using the Aggressive optimization setting as a default. However, you have the option to go with either Normal (lossless) or Ultra (lossier) settings to compress images to your desired amount. Automation is also possible and can be done by setting up specific preferences, such as resizing all images to a particular width. Additionally, there's a feature available to optimize your WordPress theme.
The Pricing
They offer two plans depending on the aggregate size of images you upload in a month. The free plan offers 20 MB for free, which is estimated at 200 pictures. Alternatively, you can opt for limitless uploads at $8.33 per month (when paid yearly).
The Interface
TinyPNG's plugin is easy to comprehend, with a minimalist Settings page and streamlined setup. You can get up and running in as little as 20 seconds, with intuitive recommended settings and only a few steps to complete the setup. Perfect for beginners!
The Features
TinyPNG offers a powerful solution for optimizing images, both before and after upload. It compresses and resizes images automatically upon upload, with options for optimizing previously uploaded images. You can also resize images on the WordPress dashboard and choose which sizes to compress, from thumbnails to originals. Plus, there are no file size limits and WooCommerce support, making this an attractive plugin.
The Pricing
For smaller to mid-sized sites, there is a limit of 500 free compressions per month. After those, the cost starts at $0.009 per compression for the next 9,500 images. Then, the price per compression decreases to $0.002 after 10,000 compressions.
The Interface
Optimole's image optimization plugin is modern and efficient, with most of its tools running behind the scenes without you having to worry. Signing up and inserting the API key is quick and easy. After that, you'll be able to view all your optimized images in the dashboard and modify settings like image replacement, resizing large images, compression quality, and lazy loading.
You can also find more detailed info, like optimization sizes and monthly reports, in Optimole's dashboard, which is separate from WordPress.
The Features
Optimole does all image optimization automatically, powered by a CDN for quicker loading times. Track progress with detailed reports about which images have been optimized and the space saved. As well as lazy loading and resizing, no payment is needed to benefit from this comprehensive optimization package.
The Pricing
The Free plan is great for personal WordPress blogs, providing 5,000 unique visitors and unmetered bandwidth each month. They also offer three other plans, beginning at $19.08 per month when billed yearly, with 25,000 monthly visits, auto-scaling images, smart lazy-loading, and customer support.
Upgrade to a paid plan and get a CDN too. The Business plan at $39.08 per month lets you reach 100k monthly visitors, with a custom domain available. More visits are available with upgrades.
Summary
Which WordPress image optimizer suit you better?
Smush
Enjoy unlimited free compression, either lossy or lossless, with a maximum of 5MB per image.
ShortPixel
Optimization and a smooth experience are achieved through the best interface possible.
Imagify
Outstanding compression, exceptional features, and an intuitive interface.
Compress JPEG & PNG images
Optimization of the highest quality combined with an easy-to-use interface.
Optimole
The powerful free plan features include a CDN, lazy loading, and the ability to optimize images for each viewer's unique device and screen.
We hope these tips will help you to choose a suitable plugin to optimize the images for your website. If you found these tips helpful, please leave a comment below or contact us to let us know! We always love hearing from our readers.