5 WordPress Plugins Bloggers Could Use To Increase Blog Traffic
If you're a regular blogger, then you probably know that one of your main goals is to increase traffic to your blog. And fortunately, there are plenty of WordPress plugins out there that can help you do just that.
These plugins can help you drive more traffic to your blog posts, earn more subscribers, and boost the authority of your blog. So if you're looking for ways to improve your blog's traffic, be sure to check out some of these plugins.
Why Use WordPress Plugin To Increase Traffic?
Quality traffic is essential for the success of any WordPress website. More visitors mean more opportunities to boost brand awareness, persuade advertisers to promote your site, and increase product sales – all of which can lead to increased revenue for your business.
However, there is no easy, one-off solution for increasing traffic to your blog. It takes a combination of creating great content, actively promoting your content across multiple channels, and using relevant keywords to ensure your content is visible in search engine results. While this may seem like a lot of work, it's essential for any small business or single blogger who wants to succeed with WordPress.
Fortunately, WordPress plugins can help you with a variety of tasks related to SEO, social media, page performance, and contact management. By using the right plugins, you can get more visitors to your blog in less time.
In this article, we'll cover some essential WordPress plugins for bloggers that can help you increase traffic to your blog. Once you've earned that traffic, you can use a traffic plugin to analyze it and optimize it for even better results.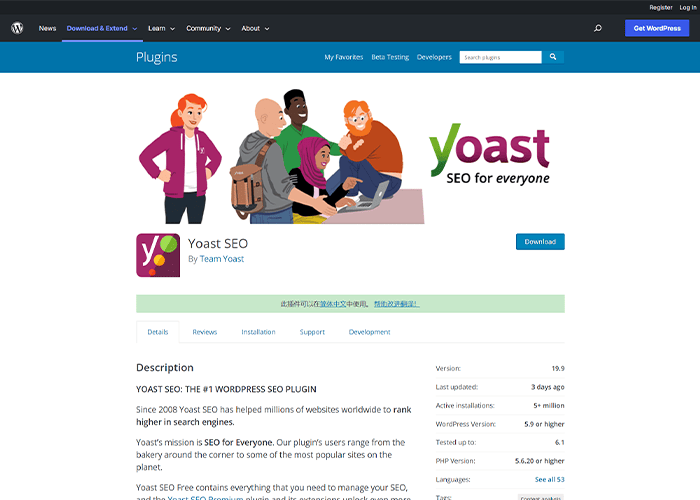 Backlinko reports that Google search users click on links on the first results page less than 1% of the time. However, you can optimize your content to rank on the first page of Google search results with the help of the Yoast SEO plugin.
Yoast SEO is the top on-page SEO tool for WordPress, offering numerous free features to help you optimize your posts for search engines. Yoast takes care of every tiny detail required to improve your content for better search engine visibility, including title and meta description templates, optimization for images, XML sitemaps, readability analysis, breadcrumbs, and a tool that automatically sets canonical URLs to avoid duplicate content.
One of the standout features of Yoast is the Content Analysis Section. This section displays red, green, and orange lights against the SEO parameters that are listed below your content. These lights tell you how well or poorly your website follows SEO best practices. With these features, it's able to free up your time to write better-quality content.
Key Features To Drive Traffic
1. XML Sitemap: Helps to create a search-engine-friendly sitemap that gets pages crawled more quickly, improving your position in the search engine results pages (SERPs).
2. Canonical URLs: Used to void duplicate URLs in order to prevent confusion for users and decrease traffic to your blog.
3. Content Analysis: Provides guidelines so you could create quality content to drive more traffic.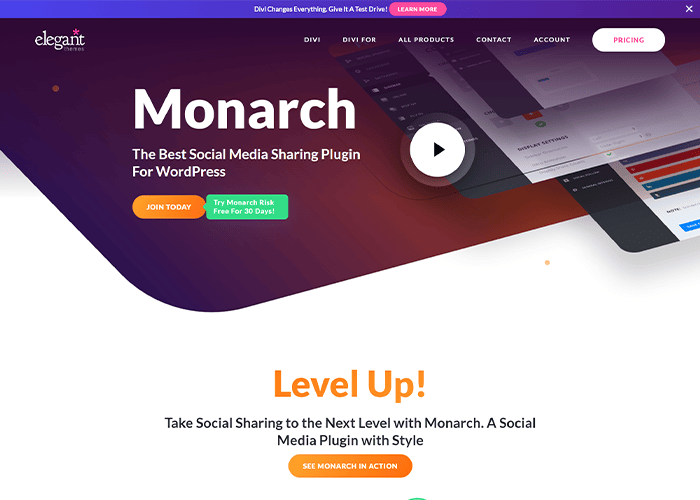 Monarch is one of the best social media plugins for anyone who wants to encourage their visitors to share their content on multiple networks. With more than 20 social networks to choose from, you can easily customize your sharing options to best fit your needs.
Share buttons can be added to different sections of the site, providing your audience with the most options for sharing your content.:
Sidebar
Images and videos
Automatic pop-ups
Automatic fly-ins
Above and below content
Monarch helps you generate tremendous WordPress traffic from multiple sources by setting custom triggers for pop-up and fly-in social media buttons. By prompting action at key moments in the visitor experience, you can maximize the potential of your website.
Key Features To Drive Traffic
1. Social Sharing Buttons: Make it easy for users to share your content with their friends and followers on social media.
2. Social Sharing Statistics: To understand which button configurations are most successful, so you could add them to every page or post.
Email marketing is an effective way to generate leads and keep potential customers updated about your business. However, to make the most of email marketing, you need to have visitors subscribe to your mailing list. Bloom is an email opt-in plugin from Elegant Themes that helps you do all of this easily and efficiently.
With Bloom, you can create six different opt-in pop-ups, each triggered by a different action or delay, so they can appear when a visitor reaches the bottom of a page, makes a purchase, or takes any other desired action. Bloom also seamlessly integrates with 19 email marketing platforms, so you can send messages to your subscribers with ease.
Key Features To Drive Traffic
1. A/B Testing: Find out which methods or content are most effective for your subscribers.
2. Gated Content: To keep users engaged by limiting access to certain types of content so they will sign up or return to access more content.
3. Targeted Content: Keep your website visitors engaged and coming back for more with targeted content that shows specific offers to specific users.
If you're someone who regularly posts new content to your WordPress blog, you know how time-consuming it can be to also post that content to social media. With the Revive Old Posts plugin, you can automatically share your old and new WordPress posts to your social media accounts, eliminating the need to manually post your content. You can choose the social platform, decide the number of posts to share, and set time intervals between shares.
This plugin was designed to breathe new life into your old blog posts. By sharing them on social media sites, you can give them new exposure and reach a whole new audience.
Key Features To Drive Traffic
1. Social Media Auto Post: With minimal work, you can share your older posts on your social profiles automatically.
2. Social Media Scheduling: Increase referral traffic to your site by scheduling older posts to your social media profiles.
3. Auto Republish: Re-publishing your old posts with newly published dates can help you rank higher in the SERPs.
If you've ever noticed the star ratings in Google searches, you know how important they can be. Rate My Post is a review system plugin that allows your visitors to rate your posts and displays the ratings as a rich snippet in your search results.
The plugin is easy to use, with shortcodes that make it easy to display the rating poll on your site. You can also use schema markup to display the aggregate ratings as a rich snippet in your search results.
Key Features To Drive Traffic
1. GDPR Compliance: Show your users and search engines that you are trustworthy.
2. Rating Analytics: Users who leave positive ratings are more likely to be targeted in the future.
3. Review Schema: Shows star ratings in your search result listing to increase the click-through rates.
Conclusion
Quality blog traffic can help improve your brand awareness and encourage visitors to purchase your products, adding revenue to your bottom line. The aforementioned plugins can get your content ranked on search engines, shared on social media, and enjoyed by a growing audience. With these plugins, you'll be one step closer to attracting more traffic to your blog.
If you need any assistance in developing your company's website, you are welcome to contact us – Web Design Malaysia!