5 Best Popup Plugins For WordPress Websites
Are you seeking the most efficient WordPress popup plugin?
Locating the ideal plugin for creating popups that convert website visitors into email subscribers and paying customers can be a difficult task. With so many WordPress popup plugins available, it can be confusing to decide which one is the best.
That's why we have compared some of the most popular WordPress popup plugins in this article, so you can determine which one works best for your situation. Our analysis will show you which popup plugin is the fastest, has the most accurate tracking, and offers the most features.
3 Concerns While Choosing WordPress Popup Plugins
Using WordPress popups should be done thoughtfully. Poorly designed WordPress popups can be irritating and jeopardize both the user experience and your brand's reputation. When selecting a solution, ensure it provides proper interactions, targeting, personalization, and conversion features for an optimal user experience.
Performance is another factor to consider. Many WordPress popup plugins rely on WordPress to track analytics, increasing server load and slowing your website down. This can result in decreased SEO rankings due to slower page speed.
Choose a WordPress popup plugin that has powerful conversion features while not slowing down your website. Additionally, make sure the plugin is compatible with your hosting environment. Poor coding can lead to advanced features like A/B testing and reporting not working.
The Comparison Between The Best WordPress Popup Plugins
Bloom
$89/year

Built-in templates
Dashboard
A/B testing

Speed
No visual customizer

Elementor Pro
$49+/year

Page builder addon (great for Elementor users)
Easy to set up
Flexible creation

No testing
No analytics or tracking

Thrive Leads
$67+

One-time purchase
Analytics

Sumo
Free or $39/month

Free
Customized popups based on traffic source
Pre-built templates

Limited features
Traffic limit

Popup Maker
Free or $16+/month

Free
Lots of features
Advanced triggers

No free exit-intent
No free analytics
A Brief Introduction Of Each WordPress Popup Plugin Mentioned Above
Now, with an understanding of the popup plugins available for WordPress, we can examine the advantages and disadvantages of each, as well as their associated costs.
Bloom, a WordPress plugin created by Elegant Themes, one of the oldest commercial WordPress theme shops, is a popular popup maker. It can be used as a standalone plugin, allowing bloggers to easily create popups on their WordPress site.
Features
Bloom offers a comprehensive selection of features to meet the needs of a reliable WordPress popup plugin, including:
Automatically generated lightbox popups
Various optin options such as sidebar, slide-in, and post signup forms
Targeting of posts and pages
Timing, scroll, and form submission triggering
Templates that are easy to customize
Integration with prominent email service providers
Performance
Bloom is a plugin for WordPress that runs on your site and uses its server resources, potentially impacting page loading times.
While it attempts to decrease the burden on resources by optimizing code and employing WordPress's best practices, a busy website with limited resources may suffer from decreased performance.
Additionally, your caching plugin settings and features like A/B testing can be adversely affected.
Ease Of Use
Using Bloom's drag-and-drop popup maker, creating optins is simple and intuitive. However, the multitude of display settings can be daunting as there are many options to choose from, making the user interface a bit overwhelming.
Price
Bloom is available as part of an Elegant Themes membership, starting at $89 per year or $249 for lifetime access.
Elementor Pro is a well-known WordPress page builder, offering a drag-and-drop feature as well as popup capability. This makes it an excellent choice if you'd like plenty of design possibilities as well as a simplified visual builder for both your popups and web pages.
Features
Elementor Popups shares the same user interface as the page builder, making it possible to use the same widgets and styling options for your popups, including buttons, countdown timers, email opt-in forms, etc. Like other plugins, it provides multiple popup forms, such as fly-ins and full-screen overlays.
Advantages of Using Elementor Popup Addon:
Ideal for those already using Elementor as a page builder
Quick and easy setup with pre-built popup templates
Flexible options available for size, position, behavior, and more
Possible to connect to an email marketing service
Disadvantages of Using Elementor Popup Addon:
No A/B testing is available
No popup analytics offered to help with tracking
Price
Starts at $49/year.
Thrive Leads is a widely-used WordPress plugin for creating popups. It provides aesthetically pleasing popup designs and an effortless popup builder.
Features
Thrive Leads is created to assist you in capturing leads on your WordPress website and expanding your email list. The following are some of the features:
Different optin types like lightbox popups, inline forms, 2-step optin, slide-in forms, and more can be used
Customize sign-up forms with a straightforward drag-and-drop editor
A/B testing and analytics for forms are available
Use page-level targeting like categories, tags, post types, and more
Compatible with all popular email services
Popups are mobile-friendly for small devices.
Performance
Thrive Leads offers a balance of performance and features, yet runs slower than some other options on our list. Since it is a WordPress plugin, the code is hosted on your WordPress site, impacting your hosting resources.
Additionally, depending on your hosting or caching plugins, features like reporting and A/B tests may not perform optimally.
Ease Of Use
Using Thrive Leads is easy and it provides various templates. Additionally, its popup generator has a drag-and-drop feature to let you customize your form.
Although it's simple to show optins on your website, learning how to use all its features may be challenging for beginners. There are a lot of choices such as Lead groups, lead shortcodes, Thrive boxes and others that may not be self-explanatory so users will have to explore them to understand them.
Price
Starting from $97 per year for a single-site license.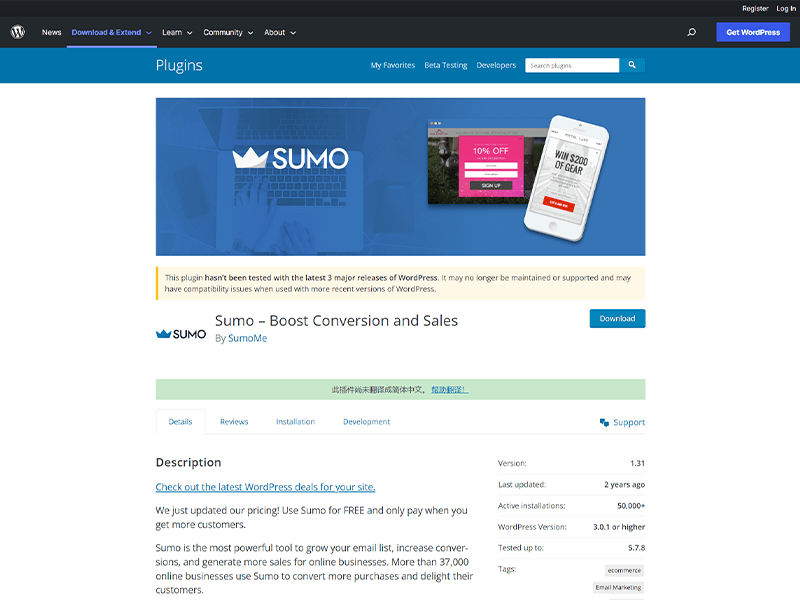 Sumo is an outstanding WordPress popup plugin, but it doesn't just stop there. It also provides a range of social sharing and analytics features, such as heat maps and scroll boxes. SumoMe is a comprehensive, standalone solution.
Features
This free WordPress plugin gives you the ability to make popups and opt-in forms, with access to various styles and templates. It also allows you to connect with popular email marketing platforms, has basic A/B testing and stats for your forms, and even do some limited A/B testing in the free version, though it does come with the caveat of having Sumo branding attached to your popups.
Pros:
No cost – Utilizing the limited features is free of charge, though a blue notification bar across the site is present in the free version which could be seen as unprofessional.
Target visitors according to traffic source – The premium version allows for customized popups depending on how the user reached the site.
Pre-made templates – Provided in the premium version, one can select from a list of pre-designed templates relevant to the popup goals.
Cons:
Restricted features – Sumo is a multi-faceted product, thus lacking a variety of specialized features and targeting options for popups.
Visitor limit – If the website is receiving a high amount of traffic, the prices increase according to Sumo's pricing model.
Pricey – The best features are found in the premium version, making it expensive for those needing a simple popup plugin.
Price
Free or $39 per month (billed annually)
Popup Maker provides a great range of possibilities for what can be created, from opt-in forms and cookie notifications to video lightboxes and notification boxes. Its integration with WooCommerce is a major benefit, allowing you to target customers based on their carts, purchase history, and more.
Pros:
No cost – Utilize this plugin without having to pay anything
Functionality – Even the free version has many features that you can take advantage of
Triggers – Add triggers based on clicks to your navigation menu, buttons, images, sidebars, etc.
Form builder integration – Seamlessly integrate your popups with popular contact form plugins like WPForms
Targeting options – Set up rules-based targeting and decide where to display your popup as you would with a higher-end popup maker
Cons:
Exit intent – The exit intent feature is not free and is only available if you purchase a plan, and thus you might miss out on significant conversions without it
Popup analytics – Popup analytics to track your campaigns are not included in the free version of Popup Maker
Advanced targeting – Additional features such as advanced targeting conditions are exclusive to paid plans, and the expenses could accumulate at the cost of a premium plugin.
Price
Free or $16 per month (billed annually)
How To Choose The Best WordPress Popup Plugin?
Selecting the right WordPress popup plugin is essential for your website as popups can be a powerful tool for growing your email list. When researching and evaluating the best options, make sure to look for a plugin that offers a wide range of templates, is user-friendly, and has a range of campaign types, customizable triggers, and integrations with your email service provider. In addition, the plugin should include exceptional customer support.
The setup process should also be taken into consideration – ensure it is simple and straightforward. Doing this will minimize the chances of your visitors being irritated with the popup, thus preserving the user experience on your website.
Still, having problems? you are welcome to contact us – Web Design Malaysia!