Top Web Design Company in Malaysia for 2021
The ultimate goal of anyone visiting your website is to find the information they are looking for quickly. And, your website design should make that process easier and help visitors navigate your website without getting lost. That's why WoWoNini Sdn Bhd comes in to help you!
Founded in 2014, WoWoNiNi Sdn Bhd has been a reliable partner with the right skills to provide an exquisite website. We have been providing the best services in the industry to help your business grow faster and more robust. We cater to companies of all sizes to transform the business from offline to online.
It has recently come to our attention that our dedication and commitment have secured a spot on Clutch's 2021 B2B leaders list. We have been recognized as one of the top web design companies in Malaysia for 2021!
If you're not familiar with Clutch, it has become the go-to resource for buyers looking for the best company to hire and businesses seeking qualified leads and new projects. Clutch Leader Awards recognize the highest-performing B2B companies by industry, service focus, and location every month. Thus, we are beyond ecstatic to be included in the reputable list. Here's what our CEO had to say:
"Winning this award is a great affirmation for us. Let us work harder to provide customers with better service and experience."

— CEO, WoWoNiNi Sdn Bhd
On this note, we extend our gratitude to the whole team at Clutch for recognizing our top-tier services. We can't wait for the wonderful opportunities this will bring us. We also thank our amazing clients who took the time to leave us reviews on our Clutch. Your honest and valuable insights motivate us to go the extra mile in every project we tackle.
Take a look at our stellar 5-star reviews from our clients: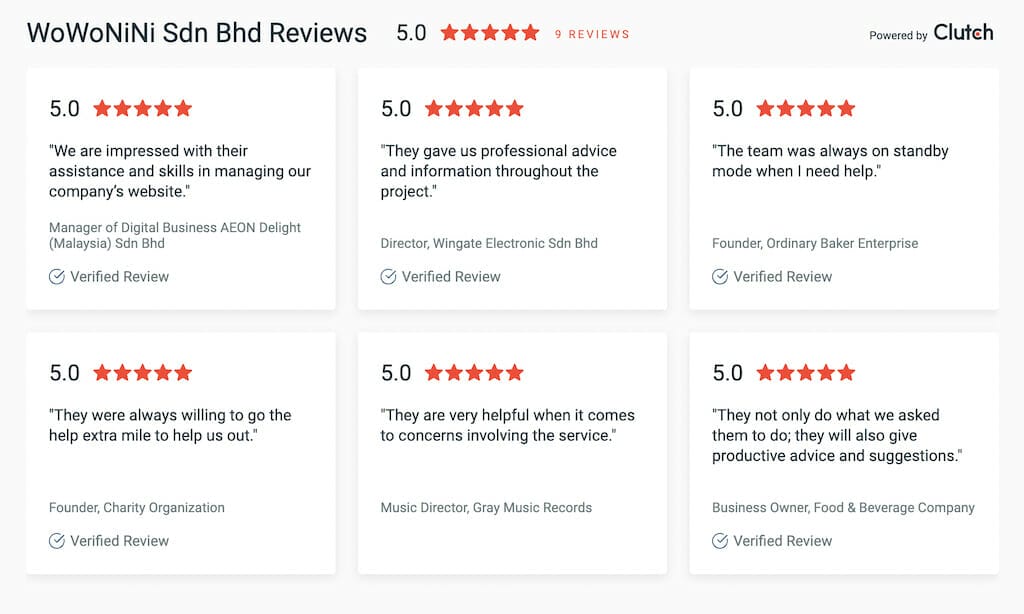 Do you need to transform your website into a well-designed and engaging platform? Contact us today, and let's get started!