Magento VS WooCommerce. How to Choose Properly?
Everyone knows Magento and WooCommerce are great choices for you to build our self-hosted online store. These 2 platforms allow you to unleash the full potential of our e-commerce platform and manage everything on the store site.
However, which platform is most suitable for your e-commerce site? You may just spend a few minutes reading this article, then you will know which platform, Magento or WooCommerce more suitable for you.
| | | |
| --- | --- | --- |
|   | Magento 2.4 | WooCommerce |
| East to Use Feature | ✓ | ˟ |
| Support Mid to Large Stores | ✓ | ˟ |
| Ease of Use | ˟ | ✓ |
| UI/UX Design | ✓ | ˟ |
| Secure | ✓ | ˟ |
| Free Version | ✓ | ✓ |
| 24/7 Support | ✓ | ˟ |
Brief Overview – Magento and WooCommerce
Magento
Magento is one of the most significant e-commerce platforms in the world. It comes with a wide range of features and functionalities. There are 2 available editions in Magento, Magento Commerce, and Magento Open Source.
Magento Commerce: A premium paid edition of Magento, loaded with rich and creative features to keep your store ahead of complex commerce operations and fulfill customers' needs and demands.
Magento Open Source: A free platform that offers basic functions to run an e-commerce store.
WooCommerce
WooCommerce is one of the most popular e-commerce platforms in the world. It's a plugin for WordPress, so you can easily turn your WordPress website into an e-commerce website. It is also an open-source platform with high extensibility and flexibility. Therefore, you can easily build the store by defining your needs and style with the storefront.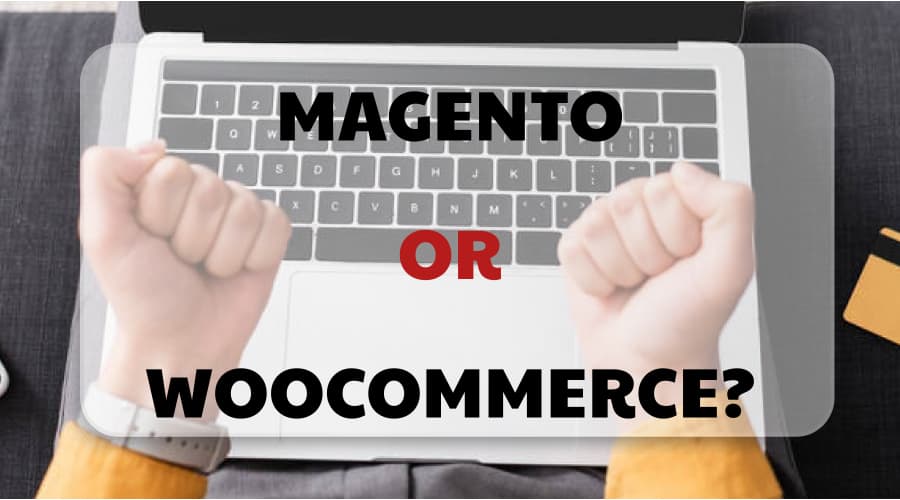 Comparisons – Magento vs WooCommerce
Although both Magento and WooCommerce platforms have a great capacity to facilitate smooth and expansion of the e-store, however, there are still some differences between them.
Let's see the below comparison chart to help to choose the right platform for your store better.
| | | |
| --- | --- | --- |
|   | Magento | WooCommerce |
| Ease of Use | 👎 | 👍 |
| Speed and Performance | 👍 | 👍 |
| Security | 👍 | 👎 |
| Add-ons | 👍 | 👎 |
Let's discuss and analyze both Magento and WooCommerce in the mentioned categories one by one:
Ease of Use
Speed and Performance
Security
Plugins and Extensions
Note: Please keep in mind, that always put the needs of your business first before you choose any platforms.
Features Comparison
Inventory Management
Both platforms allow you to add an unlimited number of products to your website. However, we will recommend you choose Magento if you want to host more than 100 products on your website.
Discounts and Coupon Codes
In Magento, you create discount and import coupon codes however in WooCommerce only has the very basic features.
Themes and Templates
Both platforms provide many themes and templates to help you to design your e-store. They have both free and paid versions; you can choose according to your preference.
Multi-Languages Support
In Magento, they have built-in to support several languages. On another side for WooCommerce, you need to purchase WPML to allow you to run WooCommerce sites in multiple languages and currencies.
Magento is known for its SEO capabilities with SEO extensions. In WooCommerce, if you want to achieve SEO, you need to install plugins and do some settings by yourself.
Price Comparison
Both Magento and WooCommerce are open source whose original code can easily modify and improved to your requirements.
If you are a beginner level, WooCommerce is a great option to start with. However, after you keep expanding your e-store, you may realize that there have capabilities limitations. End up, you will be required to spend more money in WooCommerce to add on more features and functions.
In contrast, you can download Magento 2 free version with all basic features to fulfil your store even you have a limited budget. Although you may need to purchase a hosting solution for Magento which costs $1-$200 per month. However, not to worry, we can offer you hosting solutions at an affordable price!
Security Comparison
Both Magento and WooCommerce are open-source platforms that's why they successfully attracting a large user base and community. These help us easily to gain assists or supports from the users if we interfere with any problem.
Ease of Use
Ease to use is one of the most crucial considerations when comes to selecting which platform should use for your e-store. Especially for those who have limited technical and coding knowledge.
You may feel difficult and complicated when you first get started with Magento. To fully utilize the platform's potential, you need to at least master some coding and technical terms. There is a lot of useful features and functions available in Magento. However, it requires professional users to make use of them.
WooCommerce comes with a simple installing process compared to Magento. Even if you are a non-technical person, you can also set it up and run your e-store without too much effort.
Some more, WooCommerce offers a setup wizard that makes the installation process more comfortable. You only need to follow step by steps to configure everything correctly.
Hence, regarding the ease-of-use criteria, WooCommerce won over Magento.
Speed And Performance
Speed is one of the important considerations. If your website is slow-loading or sluggish, most of the site visitors will leave your site or will not return to your e-store for a second purchase. It will become a loss for your business.
Other than the platform, there are many factors that will affect your speed and performance. For example, your web hosting provides, your uploaded images are optimized or not. Other than that, the number of modules and extensions you use will also affect significantly the speed and performance.
Therefore, in this round, there has no clear winner in this situation. Because it has many different factors that can affect your e-store's speed and performance other than the platform itself.
Plugins and Extensions
No e-commerce platform is perfect. Therefore, they allow third-party developers to create extensions and plugins for them. Magento and WooCommerce are well-known for many ad-on that enhance the functionality and appearance of the website.
Magento offers a mix of free and paid extensions for customer support, marketing, shipping and fulfilment, site optimization, payment and security, and accounting and finance. Magento extensions are rich in features, so you can use them to discover new and customize functions. However, all these extensions might require you to get help from Magento developers to help you to install them properly and ensure they are all functioning well.
WooCommerce also allows you to install a wide range of plugins easily. You can customize or personalize your website according to your requirement. Compared to Magento, WooCommerce allows you to save more budget on simple plugins.
However, it is still Magento that can offer you more powerful functions compared to WooCommerce even though they cost you more.
Therefore, Magento is the winner in this feature.
Conclusion: Who Win? Magento or WooCommerce?
Above is a brief comparison between Magento and WooCommerce. Each platform has its own strengths and weaknesses. WooCommerce is a more user-friendly platform, while Magento has a variety of powerful extensions.
While you need to decide which e-commerce platform is more suitable, you always need to put the size and the needs of your e-store into consideration.
Instead of looking for the best platform, you shall choose the right platform which matches your requirements the most.
If you want to start a small business with average performance and ease to use, you are great to go with WooCommerce. In contrast, if you plan to scale your business up to be a global brand, or you want to host a lot of different products, Magento will be your rightest choice.
Hopefully, this guide can help you choose the most suitable e-commerce platform for your business. Lack of time or technical knowledge to build for your company? Don't panic, we are ready to serve!